Phosphene Productions Services


So you're an artist. You've got a band, maybe a few songs written, and have started playing gigs, but what you really need is a good EP (or album). Maybe you're looking for a recording studio with an engineer to record your songs, maybe you'd like a producer to help polish your songs, or maybe you've been recording and producing your own band and wonder why anyone would even want to hire an audio engineer or producer.

Previous to the advent of digital recording technology, the opportunity to record in a professional studio space was a luxury only afforded to those under contract of record label, or those with lined pockets. Often, a record label will spend tens of thousands of dollars to record a bands album, which in turn becomes a debt the band must pay back through album sales before they are allowed to see any profits of their own. And with an industry success rate of near 1 in 7 signed bands actually making it, why risk it all on a deal when you can make it happen without the label.

Short of signing away your artistic rights, or winning the lottery, whats an artist to do?

Thankfully we live in the 21st century. Recording at a professional level has become more affordable to the everyday band. It is no longer necessary to shell out large sums of cash to get your album made.

Today you can gain access to a purpose built studio capable of producing your bands to the same heights any record label could, and at a fraction of the cost. You'd be amazed at just how easy it is to get on the path to stardom, and all it takes is some great songs and a fantastic recording!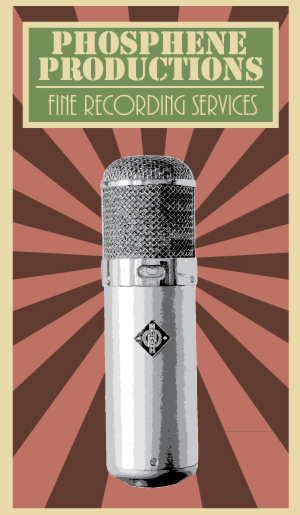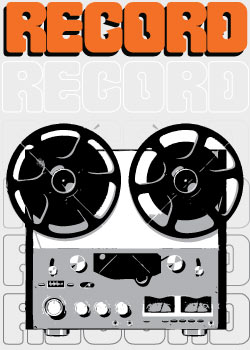 Recording:
Phosphene Productions currently records out of Stinson City Park Studios, stocked with industry standard gear, a beautiful view, and a unique atmosphere. Designed with retaining analog warmth in the digital realm, City Park Studios' wide selection of analog preamplifiers, leading industry microphones, high-fidelity A/D converters & clock source and brilliant acoustic spaces assures that you'll find your sound here! Located in West Austin, City Park Studios' spacious live room offers a uniquely unseen view of Austin's beautiful hill country. Daytime recording offers a vast amount of natural light, setting a fantastic vibe for any recording project. Evenings offer a fantastic view of the Austin skyline peeking over the hills, creating a very intimate environment for late-night sessions.
Recording;
(1.a. The act or process of making a record, especially of sound on a gramophone record or magnetic tape.)
Production:
It is the job of a producer to help a band create the best possible recorded performance and a final product that reflects the artists vision. A producer will often act collaboratively with a band or artist with, assisting in song selection, focusing artistic goals and performance in the way it is best conveyed to the target audience, and translating the performance into a final saleable product. Phosphene Productions production services allow the creative process to be explored from all points. From a business perspective, to musical input and creative insight, our production services are sure to result in a polished and professional sounding musical piece.
"What's most important is that a recording have soul.
It must lift the emotions of the listener and come from the heart."
Sir George Martin~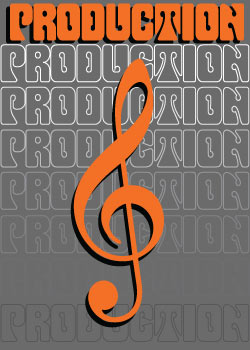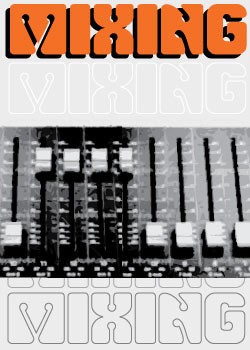 Mixing:
Mixing is a complex process of combining multiple recorded sounds into the final version of the song or recording. Phosphene Productions currently runs Avid Pro Tools HD 10, stocked with a bounty of software emulations based on vintage gear, and high-quality outboard gear. City Park Studios' acoustically tuned control rooms and high-fidelity studio monitors (speakers) ensure your songs will sound great on any system, anywhere. From 60's Psychedelia to Avant-Garde Jazz and anything in-between, Phosphene Productions is capable of delivering professional recording for any style of music.Though we will be happy to mix anything you record with us, you may also send us songs to be mixed. We'll send them right back to you, mixed and ready for the radio!
"Sometimes we'd even accentuate the mistakes during mixing,
just to underline that fact that the music was being made by fallible human beings.
Today, there's plenty of technology, but precious little soul."
Geoff Emerick~
Mastering:
Mastering is the final step a recording goes through before release or mass duplication. Phosphene Productions' professional mastering services ensure your recordings are up to industry standards and radio friendly. Utilizing the most current and up-to-date techniques, our mixes translate well from system to system, retaining the same power and feeling heard in the studio, and will compete with modern radio standards.Though we will be happy to master anything you record or mix with us, you may also send us your songs to be mastered. We'll send them right back to you, fully primed for the radio!
Mastering:
(1.a. The final stage in a production,
insuring that the music fits together seamlessly and is